At three years old, her mother Hildegard despaired at the continual appearance of smiley faces drawn in biro on the white walls at home.. but she encouraged Ulla in her painting...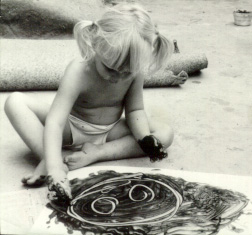 At seventeen Ulla went to art school.. At eighteen she landed her first pavement art commission with Melbourne City..

Twenty-three saw her on her first international tour as a part of Chalk Circle.. Now working solo, she loves her work, touring and making art at a "grass-roots" level.

With pastels and knees pads in tow, Ulla creates public, (con)temporary street and corporate events- in Australia, Canada, Europe, and Asia.
Ulla has won prizes in competition pavement art and her paintings are represented in government, corporate and private collections in Australia and overseas.
Enjoy!









Ulla has had a diverse artworking experience-

street drawing at festivals and special events,

intensive art programs with young adults,

children's workshops,

public and private commissions for artwork,

murals .......

scenic painting

..and advertising campaigns.
Born in 1969, in Melbourne, Ulla has completed formal art studies-
BACHELOR OF FINE ART, 1987-1989 at Chisholm Institute of Technology (Monash University),

DIPLOMA OF EDUCATION, (Art and Craft Method)1990. University of Melbourne,

Certificate III of Small Arts Business Management, 1993

Natural history Illustration 101 .
Ulla's clients include:
Street and Arts Festivals and events across the globe-
Corporate and Government clients include
City of Melbouorne - many Cities and Shires arond Australia!
M2006 Commonwealth Games
Melbourne Museum
Royal Melbourne Zoo
Information Victoria
Air New Zealand
Australian Open Tennis
Pacific National Exhibition

, Canada

Tourism Australia Hong Kong
Pavement art and painting commissions, workshops and gallery shows 1987 onwards