Workshops and public participation events...
Ulla's fun and educative public workshops serve the full spectrum of the community, and they are great activities in schools and at festivals.

Pavement Art workshops and collaborative, community artworks can be structured for casual "drop-in" or intensive involvement for children, youth, and adults.

Pavement Art workshops can be used;-

In the local community to focus on important issues...

at Festivals,

in the park,

Anti-Grafitti programs,

at the local shopping centre,

In the school to combine art working with...

Special events,

Fete, and

Theme weeks or cross-curricular learning activities
Ulla has a Diploma of Education (secondary Art/Craft), a Working with Children check, and over 30 years experience designing and conducting art workshops.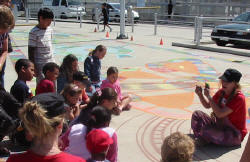 Ulla has worked at many educational institutions creating art in-situ whilst talking to school groups, including- Kingswood College, Methodist Ladies College, Mount Scopus College, Catholic Regional College, Sienna College, Geelong College.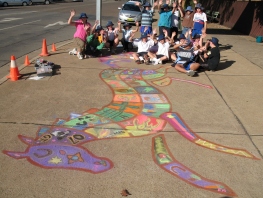 The Chalk Horse - of Scone
Known as Australia's horse capital, this workshop was designed accordingly as part of the Horse Festival, and enthusiastically coloured by St Mary's students
Ulla also runs workshops in pavement art for youth and adults.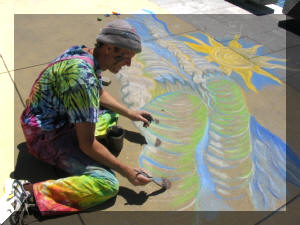 Damon finishing up his third drawing at the Newcastle Livesites Pavement art workshop October 2005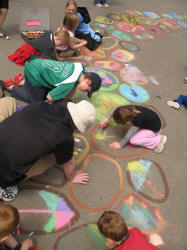 Royal Melbourne Z00 - Frog Week "Frog River"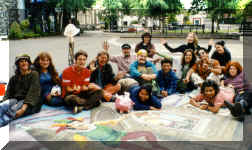 Sidewalk Art Project, Class of 2000
Bev, Peter, Ulla, Jenny and Diana of Chalk Circle with a group of our workshop participants at the Arts Centre Christchurch, 2000.
CHAWK art group NZ was formed as a result of this workshop and I have since had the honour to work with my former students as professionals in my 2002 NZ tour.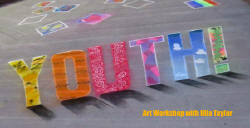 Youth Week art workshop - City of Hobsons Bay
Pavement art workshops can offer your school or community;-
A great contemporary artwork

A fun learning activity

Public involvement

Skills in cooperative group work

Skills in self expression, communication and empowerment.

Immediate and visible achievement- at your feet.

An insight to professional practice and artworking techniques.
Ulla's art events can be tailored to your needs.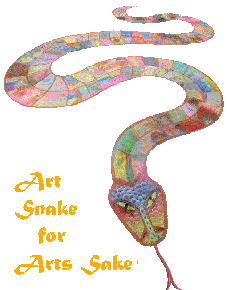 Popular workshops range from small group work, to major multi-day events, including formats such as:
| | |
| --- | --- |
| | Art Snake Workshop, weaving its colourful way down the pavement, coloured in by everyone who wants to join in. |
| | Adult and Youth Intensive Workshops |
| | The (con)Temporary Gallery, comprising of a multitude of individual artworks... |
| | Christmas decorations - crafted by kids |
| | The World Family, linking hands along the street and embellished by workshop participants.. |
| | The Forest Workshop which explores the idea of biodiversity. |
| | The Big Draw, a giant pencil coloured in by hundreds.. |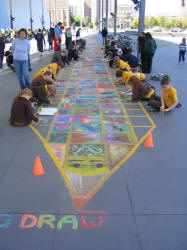 Melbourne Museum Big Draw 2005
Produced as a part of Drawing Australia program, the Museum won an Innovation Award from the Vice Chancellor at Macquarie University for this program.
In this workshop designed by Ulla and assisted by Chalk Circle artists and numerous museum staff, many school groups and the public contributed to this major public artwork. Children sketched items from the museum collection, and had a talk about pavement art before working on the pavement in public. This was a major event- many hundreds of pictures were drawn over the week-long program.
Giant Boomerang - with animal designs at Moomba Chalk the Walk Melbourne.
Designed by Ulla for Chalk the Walk's workshop program at Art Play during Moomba festival, many school groups and the public came to draw. It's very rare to get such a great big space to use, without fear of inundation from crowds (we were on the car park roof at Federation Square) . This has Ulla's largest community workshop design, over about 300sq m. Melbourne 2007.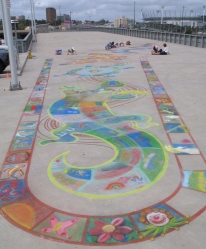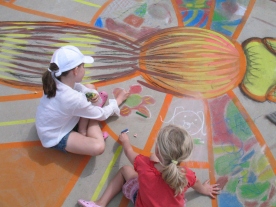 Youth collaboration
on the Crusoe College Bendigo Anti Grafitti workshop 2018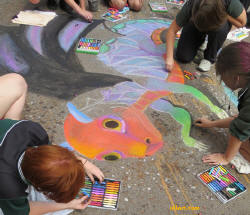 Pavement art workshops have been the highlight of many events including:
Melbourne Museum The Big Draw 05 and Children's Week 2009,
Royal Zoological Gardens of Melbourne Garden Weeks Zoo Month,
Frog Week and Mission Australia Family Day,
Christchurch's Sidewalk Art Project 1997-2000, and
World Buskers' Fest Kids days, Sydney Road Street Party,
Mt Gambier's Blue Lake Festival,
Youth weeks,
Canberra Multicultural Festival, Albury Applause Festival,
Streetworks Melbourne Pavement Art Festival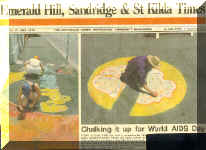 Chalking it up for World Aids Day - adults produced major artworks highlighting issues relating to World Aids day after a pavement art workshop in St Kilda, 1992.

High school students in Murray Bridge, S.A., were featured in this article after an intensive pavement art workshop in 1995.