Corporate

art

With over 30 years experience as a street artist, Ulla has great skill in producing high quality pavement art.

Tailored to specific sites, themes and audiences, Ulla's work is a highly versatile performance art form, and also an attention grabbing artwork..
Corporate Gallery
Whether painting on pavements, walls, canvas, walls, imported pavers, paper or anything else, Ulla pays attention to both the detail and deadlines with a smile..
Ulla's happy clients in the corporate world and government bodies include:
| | |
| --- | --- |
| | Melbourne Museum |
| | Air New Zealand |
| | Information Victoria |
| | Heritage Victoria |
| | Tourism Australia (Hong Kong) |
| | Telstra Countrywide |
| | Royal Melbourne Zoo |
| | Local councils Australia wide |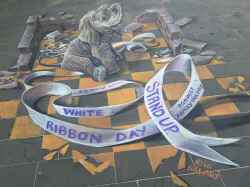 White Ribbon Day in Bendigo, Hargreaves Mall
More info in Corporate Gallery
Festival

pavement a

rt

Ulla has worked at many prestigious arts and performance festivals worldwide, and is frequently invited to return to events year after year.
Ulla's Gallery has many of her festival art images arranged by theme.
Her "screeving" or street mural, is crafted in brilliant, ephemeral Fine Art chalk pastels, and literally creates a new perspective on the grey street, delighting and amazing pedestrians of all ages.
The street paintings are created on brick, asphalt, and concrete surfaces. Created over days, the artwork fades as it is worn away by the elements. Ulla's fine pavement art is exceptionally photogenic and attracts avid interest from visual media.
Ulla is a consistent prize winner in pavement art competitions. She has won prizes at Geldern International Street Painting Festival Germany, Massey street painting festival Canada, and Chalk the Walk Sydney and Melbourne Streetworks Festival.
Since 1987, Ulla has made the creation of public, democratic art her career.
Pavement art workshops are also great at festivals for public participation.
Workshops and public particpation events
With a Graduate DIploma in Art/Craft, a "Working with Children" card and a child of her own, Ulla's workshops are not only a fun event but are educational as well.
Detailed information on her tailored workshops can be found on the Workshops page.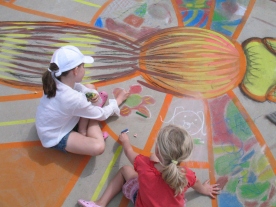 B

rief History of pavement art- Ulla's version.

"Pavement art has a very long world wide history dating back to ancient times. Art has been created in public spaces for ceremony, information and good luck for millennia. Historical incidents of pavement art are recognised around the world. A few examples include.. Medieval Maddonarri in Italy drawing holy pictures, East Indian Rangoli designs used for good spirit, home and guest customs, traditionally, generationally and currently. Screever's are also recorded in English literature, and English (colloquial) dictionaries.

..and before there were pavements, there were caves!!

Pavement art was popular before the printing press as a media for mass information, and community bonding, and it's presence on the street still attracts an enthusiastic response from passers by, and modern media.

The digital camera age has heralded a Renaissance of street painting, taking the ephemeral art form into digital permanence, and popularising "3-D", anamorphic illusions."